Learn more about this outstanding success story: Perfect collaboration of people and tools for stunning results!

Arkema, a building materials company, faced a challenge with providing its customers with reliable technical data sheets (TDS) due to having numerous products with information spread across multiple platforms. The company overcame this issue by implementing a product information management (PIM) system from Akeneo to centralize its data and worked with InBetween to generate TDS. This case study highlights the importance of reliable technical data sheets and how a PIM system can help streamline the process of creating them.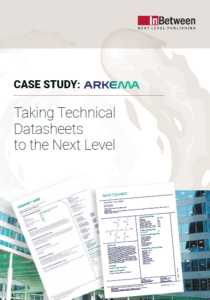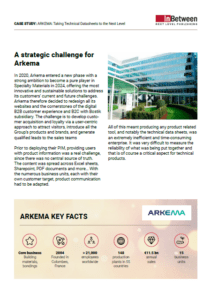 Awarded with the Akeneo
PXM Leadership Award 2023
5 takeaways you will DiscoveR:
Unlock the key to success in B2B industries, such as construction, by learning how reliable and accurate technical data sheets can make all the difference.


Discover how to overcome the challenges of providing accurate TDS when dealing with multiple products and information sources spread across different platforms.


Streamline the creation of technical data sheets with a product information management (PIM) system that centralizes all your product information in one place.


Generate technical data sheets with customized layouts for different business units, thanks to a partnership with InBetween.


Discover how working with a PIM system and InBetween can enhance the customer experience, generate qualified leads, and take your sales team to the next level.
"Arkema will be able to save several million euros by freeing 8,000+ days of our employee time. It is also 8,000+ days that will be dedicated to customers instead."
Liza Marasinghe
Product Experience Manager
Arkema