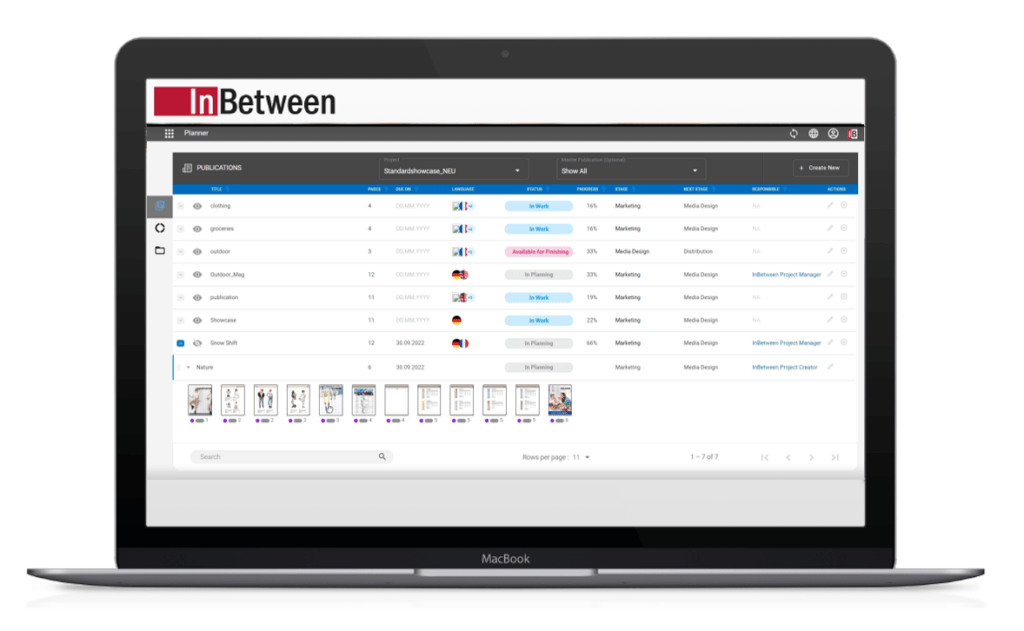 Publishing marketing materials is a critical part of business operations. Being able to publish large volumes of advertising material quickly is key to gaining a competitive edge. However, as the sales or marketing departments plan the publication and design department executes it with inputs from marketing, the collaboration between departments can often be time consuming and communication unclear.
InBetween Publication Planner resolves such internal issues, enabling you to save time during planning and implementation, as well as during the monitoring of your publications. InBetween Publication Planner allows you to monitor the iterative progress of all your publications, through all key stages: from initial planning to final publishing and distribution.
Thanks to publications with InBetween Publication Planner, you can define all sections, as well as the number of pages for each individual section. This enables you to define completion dates per section and per publication, as well as the responsible person for the project.  
InBetween Publication Planner is an intuitive online solution that can be accessed from anywhere. Once the marketing team procures the data and images of the product, InBetween Publication Planner automatically collects the relevant data and images from the PIM system and inserts these into the publication pages. Users can choose a language and generate the publication right there and then.   
visibilty for all parties 
save time in all stages of publication
define your own pages, sections and set personal deadlines
automatic data and images retrieval from PIM 
inserts directly into publication