A network of experts to guide you, working together as a team.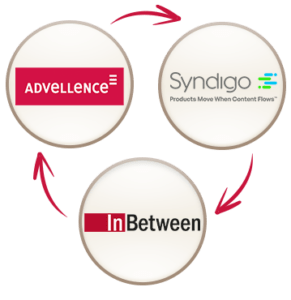 Eurogast Österreich GmbH drives digitalization further with integration of Publishing Solution InBetween
Eurogast Österreich GmbH, a consortium of eleven private gastronomy wholesalers, is set to embark on a magical journey of digitization and automation, powered by the innovative InBetween Print Publishing Solution. Collaborating hand-in-hand with their trusted digital innovation partner, Advellence, Eurogast Österreich is poised to revolutionize information management and publishing processes, elevating the customer experience to the next level.
With 19 locations and 1,750 dedicated employees across Austria and South Tyrol, Eurogast Österreich is a key player in the market, catering to the hospitality industry, hotels, restaurants, and bulk consumers. As part of their commitment to staying at the forefront of digital innovation, in 2020 Eurogast Österreich sought the expertise of Advellence to guide them on this transformative journey.
Advellence, renowned for their passion for data and processes, specializes in consulting, implementation, development, and integration. With their invaluable insights, Advellence advised Eurogast Österreich on the best digitization initiatives and software solutions. Together, they set forth to transform information management and publishing processes.
Following the esteemed recommendation of Advellence, in 2023 Eurogast Österreich made the enchanting choice of embracing the InBetween Print Publishing Solution, aligning with their commitment to staying at the forefront of digital innovation. InBetween cutting-edge software, combined with the powerful Syndigo Product Information Management (PIM) solution, unlocks new realms of possibilities for Eurogast Österreich. The stage is set for producing print products at the push of a button, therefore saving a significant amount of time and costs. The collaboration between Eurogast Österreich, Advellence and InBetween marks the beginning of a remarkable digital transformation journey. The first milestone was achieved through the seamless integration and implementation of Syndigo's PIM system as a data source, smoothly linking with InBetween's capabilities. With this foundation in place, Eurogast Österreich is ready to embark on a quest to create, automate, and distribute leaflets for approximately 50,000 products.
The objective is to streamline the process of producing informative and visually captivating leaflets, empowering Eurogast Österreich to efficiently communicate product details, promotions, and offers to their customers in a captivating manner. By leveraging the InBetween Print Publishing Solution, Eurogast Österreich aims to enhance their leaflet production workflow, ensuring timely delivery of accurate and enticing content to their diverse clientele.
The future holds the potential for unleashing a further boost in efficiency and productivity, e.g. in implementing the automation of datasheets and more. With Eurogast Österreich's vision and the expertise of Advellence, together with their technology partners Syndigo and InBetween, the sails are set for a sustainable digital future.
For more information on this magical collaboration and the transformative capabilities of InBetween's software, feel free to contact Advellence or InBetween directly.
InBetween Deutschland GmbH has been the world's leading provider of agile digital print publishing software for more than 30 years. The company's software is designed to provide powerful solutions for dynamic and data-driven publishing automation, with a focus on creating the perfect product experience. InBetween's solutions are used by many of the world's most renowned brands to create compelling and effective product communications.
Advellence develops customized and for the future scalable overall concepts for the organization, processes and data in the areas of Master Data Management (MDM), Product Information Management (PIM), Digital Asset Management (DAM), Business Intelligence (BI), Modern Work, Multichannel Management, SAP Frameworks, Cloud Services and Artificial Intelligence.
With 100% Swiss Made software developments and a very broad and strong network of technology partners, we guarantee first-class consulting in technology selection, implementation, development and integration.
Syndigo powers modern commerce by enabling the continual flow of data and content throughout the entire commerce ecosystem. With industry-leading data management, syndication, and analytics, combined with the largest two-sided network for content distribution, we deliver accurate information that improves decision-making and accelerates sales on every shelf.
Syndigo serves more than 12,000 manufacturers, and 1,750 retailers and distributors globally across key industries including grocery, foodservice, hardlines, home improvement/DIY, pet, health and beauty, automotive, apparel, oil and gas, and healthcare.
Maximum creativity AND 95% degree of automation: 29 country-specific publications in 19 languages.
For the Love of pets – 13 times faster, thanks to 80% automation.
700 layouted pages in 12 hours out of SAP: Full performance at 50% less time and effort.